Athena Security powered by Ceia Opengate is a Groundbreaking Weapons Detection System designed for faster screening of people with their backpacks, purses and bags, etc. for the detection of a large variety/number of Metal Threats, such as high caliber assault weapons.
​
The Weapons Detection System /WDS is made up of OPENGATE ® an HD active walkthrough metal detection and induction lidar (optional thermal camera), a visual camera, artificial intelligence technologies, a controller tablet, and a monitor tablet. The system can be set up outdoors and easily transported for event security or conveniently situated permanently in an indoor space.
​
The system adheres to the Federal Standard while allowing both auditory and visual alert options, as seen in the best practices of Homeland Security for WDS.
​
The concealed weapons detection system is designed to scan people walking at average speed through the CEIA OPENGATE ® system and toward the Controller tablet. The system optionally displays "CLEAR" if no threat is detected or "Object Detected" if the system detects a potential threat on an individual. Upon potential threat detection, a configurable alarm process is set in motion.
Safety.
Protect your employees and customers while saving the one thing you cannot buy. Athena was started to help save lives. Please join us and let's create a safer world.
Athena Weapons Detection System
Integration.
3rd Party integrations that connect to security systems to help your teams run your operations more efficiently.
Athena's Entryway Security system finds concealed weapons up to ten times faster than legacy metal detectors while helping you automate compliance.
Efficiency.
Accuracy.
Our system passes the federal standards test from NIJ 0601.02. This means it catches the weapons 100% of the time when you choose a security standard setting. With a low false positive rate, you can expect safety without compromise
The Athena WDS Cloud Control Center
Alert notifications can be sent in real-time to a Security Operation Center, mobile phone App, computer-based browser, Video Management System (VMS), Access Control System, and more. The alert system can also be further integrated with other business software. Most clients choose to send proactive alerts after they have been confirmed by the guards running the system to a predetermined escalation path if someone walks in with a weapon. The alert contains the location, date/time stamp, and image.
​
Expect Athena's System to be a workforce multiplier by improving the operational efficiency of your security team. It is best to use this system as an initial triage, with people walking single file through the checkpoint. Then, upon an alert, a security professional can do a secondary screening.​
​
For another layer of security, Athena's Concealed Weapon Detection System can be combined with our natural light gun detection. This looks for brandished guns that are visible and approaching your facility.
The Controler tablet transmits the alert data to the Athena Cloud Control Center which gives you the flexibility to add 3rd parties connections and offers analytics to help you understand your Weapons Detection System
The Athena Control Center is made up of:
​
OverWatch™​​
Real-Time Alerts

Real-Time Alert Resolution

Digitized Incident Reporting

Prompt & Automate Compliance Documentation

Reports and Analytics

Guard Check-In

Enterprise User Management

Pre-built API Integrations
The device uses low-frequency electro-magnetic technology, dynamic non-contact detection, and meets EMC electromagnetic radiation standards. It does not harm humans, medical devices like pacemakers, pregnant women, kids, or electronic devices.
Third Party Lab Tested Safety Compliance
EN 45502-2-1:2003. (Cardiac pacemakers)
EN 45502-2-2:2008. (Implantable defibrillators)
ISO 14117:2019. (Cardiac pacemakers, cardioverter defibrillators, cardiac resynchronization devices)
ISO 14708-1:2014 (Implants for surgery)
ISO 14708-2:2019 (Cardiac pacemakers)
ISO 14708-3:2017 (Implantable neurostimulators)
ISO 14708-4:2008 (Implantable infusion pumps)
ISO 14708-5:2020 (Circulatory support devices)
ISO 14708-6:2019 (Implantable tachyarrhythmia treatment devices)
ISO 14708-7:2019 (Cochlea implants, auditory brainstem implantsystems)
The default security level 2B sensitivity setting on the system is expected to find mass casualty weapons such as handguns, rifles, shotguns, and many bombs. This default setting adheres to the Federal Standard NILECJ-STD-0601.00 Level 1 and 2 test. This rigorous testing found the Federally defined target piece (the "AM7", which represents a handgun) according to the government standard even when placed all over the body and concealed by various types of clothing the system will catch it according to the standard.

The customer has the option to change the Security Standard settings in the WDS / walk-through metal detector according to their threat matrix. In addition, the sensitivity can be changed up or down according to the use case and customer goals. The system uses security levels corresponding to an international standard. Customers get to consider what the optimal trade-off is. The default setting is to maximize the likelihood of finding the "AM7" type of handgun (or larger style), while also discriminating and not alerting on mobile phones, keys, or common personal items. The sensitivity can be easily increased for added security, however, the nuisance rate of false alarms will likely increase. In terms of the nuisance rate of false alarms, we have observed that in the average crowd, a rate of about 5%. So in a group of about 100 people going through, generally, about 5 will set off the alarm (for a range of reasons).
Athena's Weapons Detection System* finds concealed weapons up to ten times faster than legacy walk through metal detectors while helping you automate compliance with real-time alerts.
​
3rd Party integrations that connect to access control systems, and VMS systems to help your teams run your operations for WDS and Walk Through Metal Detectors more efficiently.
Removing prohibited weapons from your environment improves safety. Help make the world a safer place with Athena Weapons Detection System.
Real-time image transmission to a browser, mobile app, and other 3rd party integrations
Alerts can be confirmed, which can trigger another action for Alert Resolution.
Gives organizations the ability to see alerts in real-time and from the past.
Helpful for investigations to specify what was found in the search
Resilience when a problem arises
Helpful for investigations to see front-facing images of all persons coming through the screening portal in real-time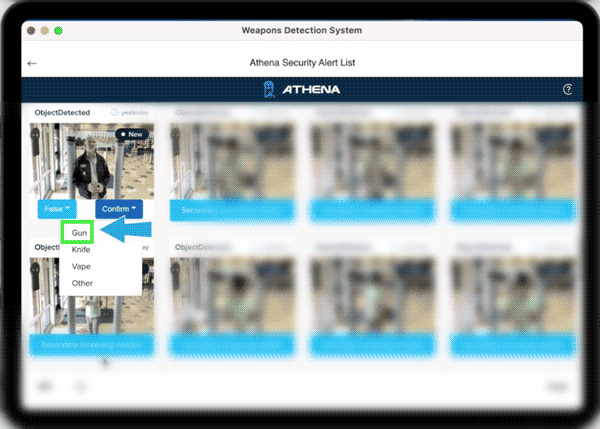 Officers can select fields such as drop-down menus, multi-choice, text, or even photos so they can take a picture of what the item found was.
Taking all of your paper work and digitizing it.
Pull up the submitted reports anytime anywhere
Users can choose audio or silent alarms.
Can save Officers across locations or keep them separate.
Email alerts and or reports.
Officers register once and never have to touch the system. The tablet has built-in sensors to help identify the person without touching the system.
The administration can easily see what is happening with officers. Do they need to staff up as they are too busy or is it something they need assistance with?
Weapons Detection Testing and Compliance
Best Practices from DHS are built into the system like testing and documenting that it was tested with results.
Athena WDS has a built-in test mode that records, documents, and reports on the results of the testing by your organization.
WDS reports will show you want days your staff tested and whether they did the test correctly with photos of the actual tests that were run.